20/02/2013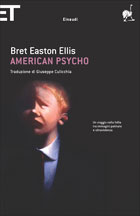 SONO trascorsi dieci anni esatti dalla pubblicazione di American Psycho, un long-seller capace di sfuggire al destino che non di rado affligge certi «casi letterari»: sulla bocca di tutti per una stagione, e dimenticati quella successiva. Di American Psycho poi è uscito di recente anche il film, che ha contribuito a far riscoprire il romanzo di Ellis a una nuova generazione di lettori. Quanto a me, è capitato di ritradurre le terribili ed esilaranti avventure di Patrick Bateman, bravo ragazzo, agente di borsa e serial-killer. E più di una volta, mentre mi dibattevo tra cataloghi a base di piatti nouvelle-californiani, abiti, sesso e mutilazioni tentando in ogni modo di rispettare la
punteggiatura e il ritmo originali,
mi sono ritrovato a constatare come il libro suoni tuttora freschissimo, per nulla invecchiato. «Ho riletto quel romanzo per la prima volta sei mesi fa», mi ha detto Bret Easton Ellis quando l'ho chiamato per avvertirlo dell'uscita in Italia della nuova edizione di American Psycho. «E la cosa che mi ha sorpreso di più è che non mi ha imbarazzato. Quando l'ho scritto ero molto giovane, molto arrabbiato. Temevo che dopo tanto tempo non mi sarei sentito troppo a mio agio. Invece ho scoperto che quel libro non è niente male. E' un pezzo di storia, ed è divertente, anche se all'epoca questo aspetto non venne assolutamente capito. Ma la cosa che mi dà più soddisfazione è che al libro non importa nulla dei lettori. Non gli interessa farsi amare, non desidera piacere a ogni costo. Ha un suo anti-stile, che poi ovviamente è uno stile, ma non si preoccupa delle reazioni del pubblico. E' un romanzo molto duro. Non scende a compromessi. E sono orgoglioso di averlo scritto a quel modo, giovane com'ero». Forse American Psycho continua a trovare lettori anche perché gli Anni 80 non sono stati una parentesi, ma una frattura, non credi? Dopotutto alla Casa Bianca c'è un nuovo George Bush, che pensa allo Scudo Spaziale proprio come Reagan. «E' vero, sono d'accordo. Gli Anni 80 non sono mai finiti. Quello che ora definisce un'epoca, al contrario del passato, quando a contare era la politica, è la cultura pop. Musica, modelle, cose del genere. Durante le scorse elezioni in USA alla maggioranza degli americani non importava nulla della controversia Gore/Bush. Piuttosto, erano interessati all'ultima boy-band o allo sport. La nostra vita è sempre più governata dall'industria dello spettacolo. Riviste come Time o Newsweek hanno regolarmente in copertina le attrici di Sex and the City. E credo che gli Anni 80 si siano insinuati segretamente nei '90, per vincere nel 2000». In American Psycho non c'è slang: semmai, i problemi che ho dovuto risolvere nel corso della traduzione hanno avuto a che fare con l'iperrealismo di una scrittura ossessiva, che non tralascia il minimo dettaglio nella descrizione di torture e accessori firmati. E mentre cercavo le parole più adatte a restituire la lingua del protagonista, evitando regionalismi, mi sono ritrovato a pensare che in fondo Bateman parla già «globalizzato». La sua è una lingua costantemente monotona, uniforme, priva di emozioni. Che si tratti di scegliere uno champagne, una cravatta o un particolare anatomico di cui fare scempio, in fondo non importa. Bateman parla sempre allo stesso modo. «I media ci danno informazioni orribili, disastri naturali, guerre, serial-killer, ma lo fanno con lo stesso linguaggio con cui pubblicizzano l'ultimo album di Madonna. E questo ha fatto scattare qualcosa dentro di me. Il tono usato da Bateman è volutamente piatto, perché volevo catturare quello usato dalla tv, dai giornali, che trovo scioccante. Ora, a 37 anni, non credo che riuscirei a entrare nella testa di Patrick. Provo più pietà per il dolore delle vittime. So che suona un po' femminista, ma quando ho riletto American Psycho certe scene mi hanno davvero disturbato. Però non le eliminerei: da un punto di vista estetico, ho mischiato l'orrore al consumismo e al sesso, e questo mi sembra interessante. La nostra società è fatta cosi'». A proposito di globalizzazione: non ti senti un po' profeta, pensando alla discussione suscitata da No logo, il saggio di Naomi Klein? Per certi versi ormai l'anti-capitalismo passa per la lotta ai
marchi, alle griffe, ai simboli del consumismo: in Internet esiste un sito, anti-everything.com, in guerra contro i condizionamenti che subiamo dal continuo bombardamento pubblicitario. E tu in realta' hai intuito tutto questo in anticipo. «Mah, non
saprei… Forse all'epoca anche altri avevano notato le stesse cose, ma io avevo già pubblicato un paio di romanzi e perciò ero autorizzato a dirle in un libro. Di sicuro però oggi la ricezione di American Psycho è radicalmente cambiata. Per me, nel '91, fu un'esperienza tremenda: tutti lo odiavano, ricevevo minacce di morte. Se allora mi avessero detto che American Psycho sarebbe diventato quello che è mi sarei messo a ridere. La sua crescente popolarita' tuttavia dimostra che non sono state le polemiche a farlo vendere, ma il passaparola dei lettori». Traducendo gli esilaranti monologhi di Bateman sui suoi gruppi rock preferiti mi sono chiesto se in America qualcuno si sia reso conto della parodia che hai fatto dei critici musicali, altrettanto feroce di quella che hai riservato agli yuppie. «Gli americani sono molto innocenti, e non colgono certe cose. Per me la satira era evidente, in American Psycho. Ma la critica all'epoca non se n'e' accorta, anche se poi qualcuno ha ammesso l'errore recensendo Glamorama. Quando in USA scoppia una polemica su un artista o un rapper, come nel caso di Eminem, è perché non si coglie l'aspetto satirico». Ho letto che a Hollywood qualcuno sta pensando di realizzare American Psycho 2, ovvero Bateman ai tempi del college. «Lasciamo perdere. Non avrei mai autorizzato un sequel, se la mia agente non mi avesse fatto firmare un contratto sbagliato. Hanno in programma anche American Psycho 3 e 4, ambientati a Las Vegas e Hollywood. Roba da matti». Patrick Bateman come Freddy Kruger. Chi l'avrebbe mai detto?